Introduction
Are you busy and do not have time to make a meal? Or do you have frozen corn in the fridge but do not know what to do with it?
Do not worry. In this article, we will show you the way to microwave frozen corn on the cob. The taste is wonderful and only takes a few minutes to complete.
Can I Microwave Frozen Corn On the Cob?
Absolutely yes! Microwaving frozen corn on the cob is easy to do if you want to enjoy this tempting vegetable all year round.
Although it is frozen corn, the texture looks fresh, and best of all, the taste is excellent.
As long as you follow our instructions, there will be no burning or exploding when microwaving frozen corn on the cob. It is totally safe!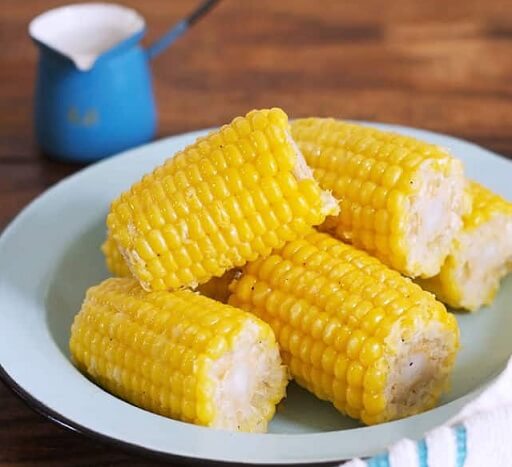 Why Should I Microwave Frozen Corn On The Cob?
There are three main reasons.
Firstly, it is a quick fix to diminish your hunger.
Imagine you are a person who is as busy as a bee; you come back home from work and need a quick meal to settle your empty stomach. However,  your fridge does not have anything but some frozen corn.
Since cooking frozen corn on the cob in a microwave takes only 10-12 minutes, you decide to do it and are happy to go to bed with a full belly.
Moreover, microwaving frozen corn on the cob is a good choice if you want a quick but healthy dish.
As corn is a vegetable, it does not contain fat or grease like hamburgers or other fast food. Eating it will not only make you feel full but also provide important fiber and nutrition to your body.
The final reason is that you can enjoy this amazing taste all year without worrying it will disappear when another season comes. Frozen corn can be stored in the fridge for 12 months for the best flavor and texture. So even though summer passes, you can try this wonderful food in autumn, winter, or spring.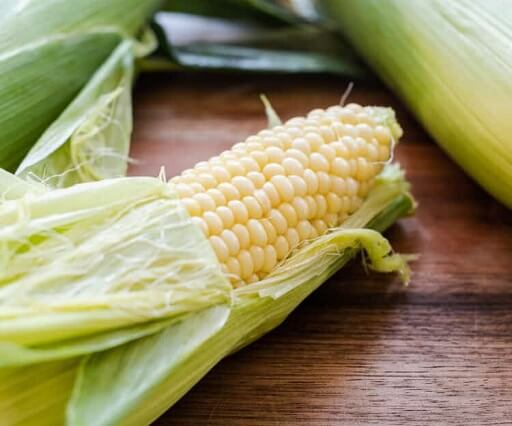 Is It Necessary To Thaw Frozen Corn Before Microwaving?
The answer is yes and no. You can choose to thaw frozen corn if needed or just take it out of the fridge and cook it right away. Whatever you choose, you have to do it correctly.
Prepare a Ziploc bag and a bowl of cold water to thaw the ears of frozen corn. Place them in the bag and in the water later.
Once they run at trickles, the corn is defrosting, and the time to finish the process is 30 minutes.
However, if you are busy and do not have time to thaw the corn, you need not do it.
It is usually recommended to defrost cobs before cooking on an oven, grill, or stovetop to reduce the cooking time.
With a microwave, this is not required. Prepare a little water in the bowl, put the frozen cobs in, then cook it at a suitable temperature in a few minutes, and a hot, delicious ear of corn is available for you to enjoy.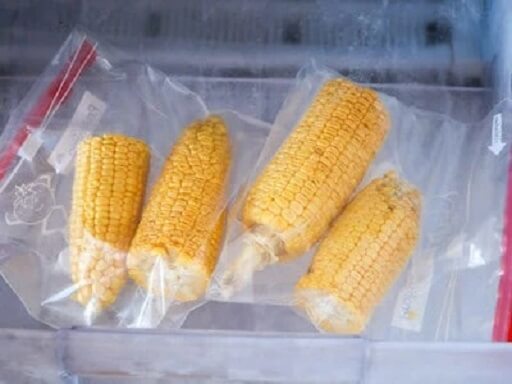 How Long To Microwave Frozen Corn On the Cob?
It depends on the figure for frozen corn that you microwave. Usually, it will take 10-12 minutes to microwave 2-3 ears of frozen corn. For a longer period, 14-15 minutes if you cook 4-6 ears.
Even takes about 1 to 2 minutes, depending on the gadget's wattage, which is not always stable.
So to ensure it is fully cooked before taking it out of your microwave, remember to change the sides of the cobs after several intervals so that they can receive the heat evenly.
How To Microwave Frozen Corn On the Cob?
Ingredients
The most important and must-have ingredient is frozen corn on the cob. The number of ears of corn will depend on your demand.
Cook 4-6 mini ears of frozen corn if you intend to serve your family of 4 people. However, 2-3 mini ears of corn are enough if you just want a quick snack or dinner yourself.
You can use 1-2 tablespoons of butter to make the taste and smell more attractive. Salt and pepper are also suggested to increase the delicious flavor.
If you are vegetarian and want to enjoy the original taste of corn, adding salt is enough. Also, remember to prepare a bowl of water to cook the corn.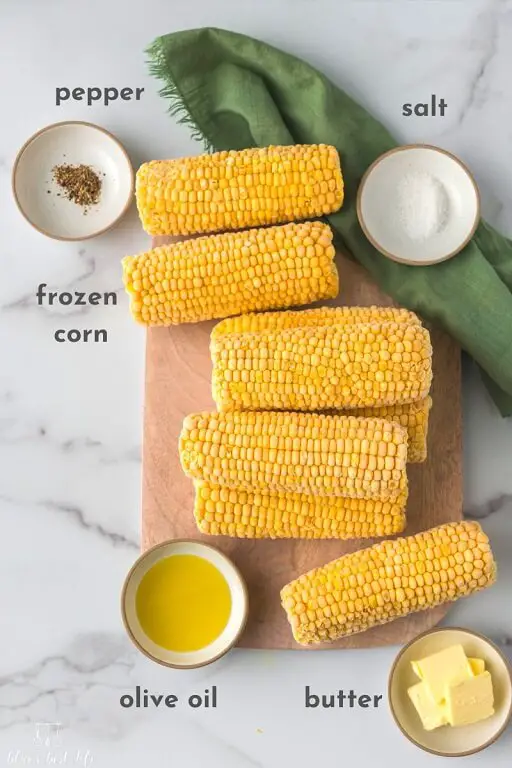 Kitchen Gadgets
About the device needed to make frozen corn on the cob, of course, you will need a microwave. Ensure that it is in a normal state and can operate efficiently.
Another thing that you have to prepare is a microwaveable dish to put the frozen corn in and a lid to avoid water leaking outside.
The last thing is a plate to put tasty and fresh-scented microwaved corn to enjoy your meal.
Ways To Microwave Frozen Corn On the Cob
Before microwaving frozen corn on the cob, you can choose to de-frozen it in 30 minutes or keep it as it is when taking it out from the fridge. The way to de-frozen the corn is already mentioned above.
Next, you should put the ears of corn in a microwave dish and add water to the bottom until it reaches around ½ inch deep.
Then, seal the dish with a lid to store the steam inside, preventing water from leaking. Besides, you should leave one corner of the dish open to release the pressure from steam to avoid it from exploding.
When all things are settled, pop the dish in the microwave. Cook it in 13-15 minutes for 4-6 ears of frozen corn or 10-12 minutes for 2-3 ears at 165℉.
To ensure the heat is distributed to each side of the corn, remember to rotate it every 3-5 minutes. Also, it will help you evaluate the condition of the corn and whether it needs to take less or more time to finish.
When done, take the ears of corn out of the dish, and test whether all the sides of the cobs are hot. In case it is still cold, continue microwaving it until it is heated evenly.
Now, put microwaved corn on the cob on a plate. To make it taste more tempting, smear it with butter or season salt and pepper to increase the flavor. It is time to enjoy the result!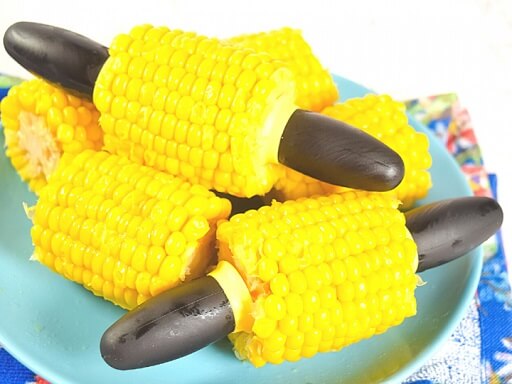 Tips And Notes
We would like to share several helpful tips to prevent a dried-out cob.
To reduce cooking time, you should break the corn into smaller lumps. Half of the corn would be suggested.
Even though there is steam from the frozen corn, it is essential to add water to make it softer and be microwaved thoroughly.
Do not cook for 10-12 minutes for 2-3 ears of corn or 14-15 minutes for 4-6 ears in one shot. You should cook them in  3-5 minutes separated intervals and move them around each interval.
The time to cook frozen corn is not always fixed; it will also depend on your microwave's wattage, so make sure you check the cobs' state right when taking it out.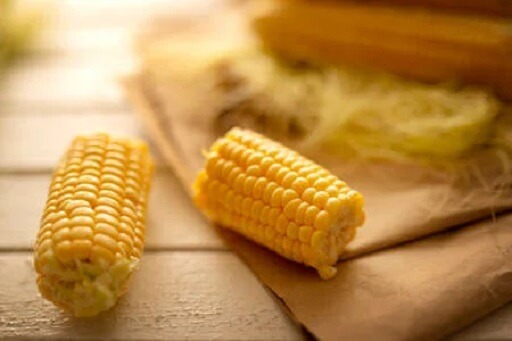 Conclusion
Way to microwave frozen corn on the cob is easy, right? With just several simple steps, a hot and yummy microwaved corn plate is available in your dish, filling your hungry stomach.
So, do not wait anymore. Try doing it today, and your family will be surprised by your talent.