Introduction
A scrambled egg is often the perfect choice to start your busy day. If you're thinking about the prospect of busy cooking in the kitchen, that's not what this article is about.
Instead, this writing will indicate how to microwave scrambled eggs no milk and tips to keep your busy days full of energy. Do not miss useful information for your stomach!
What Are Creamy Microwaved Scrambled Eggs?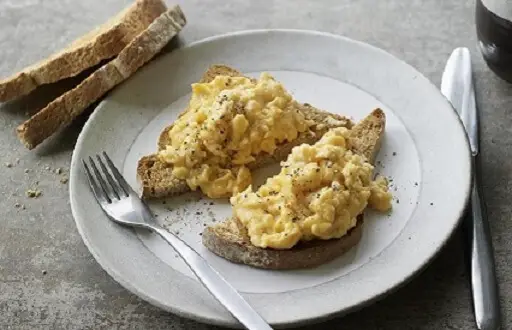 First, you must prepare some ingredients, including creamy, egg, butter, or vegetable oil. Next, mix the creamy and an egg; depending on your desired texture, it may produce a dish with different softness and fat levels.
You spread the grease or butter around the bowl or container and pour the mixture into it. Then, you cover the container with a layer of saran wrap, pierce a few small holes with a toothpick or sharp object, and place it in the microwave.
You should adjust the low temperature, which lets the dish cook evenly and increase the higher temperature to cook the center part well. When the food is done, it may be slightly wet on the surface.
You can stir it gently and add a little black pepper to enhance the flavor. It has a fatty, soft taste in the mouth.
Can You Microwave Scrambled Eggs No Milk?
If you are wondering: "Can you make scrambled eggs without milk?" the answer is yes.
You can prepare this food without any milk. Most people choose this method because they cannot consume or are allergic to the ingredients of this white liquid. In particular, the above elements are not required when making it with the microwave.
Many people mistakenly believe that adding milk may make their food softer, more delicious, and more nutritious. However, to make the scrambled egg smooth, you just need to whip it so that the ingredients inside are exposed to a little bit of air, and the porosity appears later.
How To Microwave Scrambled Eggs No Milk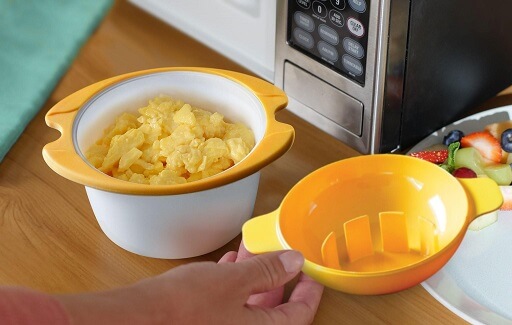 Similar to how to make creamy scrambled eggs in the microwave, the first step is to prepare the ingredients. Only substitute the creamy with water, with a ratio of one egg to 1 teaspoon of water.
You must also beat the water and egg mixture well, adding a little salt. Now you continue to do the following:
Apply a layer of oil or unsalted butter in a glass bowl or any container (like a silicone mold)
Wrap food wrap around the container, and make a few small holes for steam to escape.
Put it in the oven, and adjust the microwave for 30 seconds to the highest.
After the first 30 seconds, put the bowl out and gently stir the mixture with a fork to spread the heat evenly.
Place back in the oven for another 30 seconds on high, and this process probably repeats 2-3 times until your dish is fully cooked.
If you see the dish is about to cook, add 10 seconds more. Otherwise, the food may be burnt, chewy, and not tasty anymore. When the food is done cooking, you can take it out, sprinkle it with pepper to enhance the flavor, and enjoy!
How Long Should Scrambled Eggs Be Microwaved Without Milk?
Preparing this simple dish using microwaving is much faster than the traditional way. To make this recipe on the stove, you need at least 15 minutes to complete them. In contrast, microwave use is much faster and takes less than 5 minutes. That is in case your device has less than 1000W of power.
Specifically, you will need 1-2 minutes to have this dish when cooking it at a high temperature, equivalent to 160 degrees F. The ingredients will be fully cooked and safe to enjoy at this temperature.
You also note the time may be longer or shorter depending on the number of ingredients you put in.
The Benefits Of Microwaving Scrambled Eggs
Using a microwave to cook this recipe brings many more benefits to your kitchen, including the following:
Saves time: Completing the dish takes less than 5 minutes, while the usual browning takes 15-20 minutes.
Energy saving: Although the amount of heat required is high, the energy consumed in a microwave oven is less than a stove or oven.
Good temperature control, limited processing: especially butter or oil, you can use more than necessary to avoid the bottom layer of the pan from burning.
Tips to Microwave Scrambled Eggs No Milk
Cooking a delicious dish may not be as simple as you think, but there are tips you can follow to make it tastier. And here's one of them, creating the perfect breakfast or brunch:
Use a mold or silicone dish to spread the heat evenly and pour the food onto the plate more easily.
Use a brush or oil spray to avoid using too much grease but an uneven surface.
Each serving will be equivalent to 2-3 eggs; from 4 or more, you should divide it up to beat.
Add a little seasoning like salt, black pepper, chives, or cayenne pepper to enhance the dish's flavor.
Use a fork instead of a spoon when beating the food every 30 minutes to help spread the temperature evenly.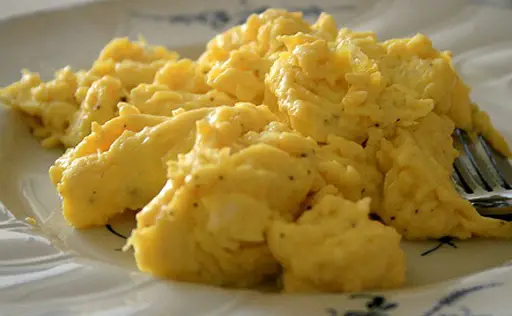 FAQs
Is Microwaved Scrambled Eggs No Milk Safe To Eat?
Yes. To make this dish, you need to break the shell and beat the yolk and white together, which helps to balance the expansion of both. As a result, the ingredient may not explode when the temperature rises as quickly as when left whole.
This food is also a healthy dish for breakfast or a protein-rich snack. You can replace milk and butter with vegetable oil and water if you are allergic or have trouble tolerating these ingredients.
What Type Of Containers Are Used For Microwaved Scrambled Eggs?
Of course, you must use microwave-safe containers and safe materials for your health. These materials must not be deformed and deformed when the temperature is high, or the toxic substance will be released into the food.
To be safe, you can use a high-quality glass or bowl to avoid bad situations. In addition, when purchasing the container, you may notice the marking for the microwave oven on the bottom of the box to see if it will fit.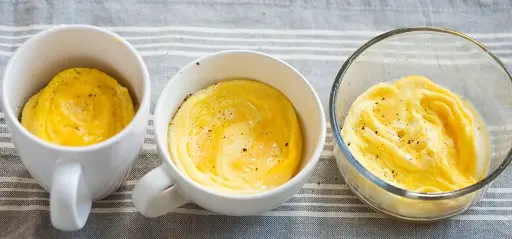 Can You Use Water In Scrambled Eggs Instead Of Milk?
Yes, you absolutely can. Adding water to this egg dish makes it lighter and smoother. However, you must use water suitably to avoid diluting the flavor.
Usually, each egg will be equivalent to 1 teaspoon of water. Then, you mix the mixture well and whip it before putting it in the microwave.
Can You Reheat Non-milk Scrambled Eggs In Your Microwave?
Entirely possible. This method does not affect the taste or quality of the dish much. In particular, dishes made from this ingredient should be eaten hot so as not to be fishy.
You must reheat it for 15 to 30 seconds so the dish is warm and soft when the eggs are at room temperature. If you take it out of the fridge (usually, you should eat it all within the day), reheat it at 165 degrees F or 74 degrees C. It creates the dish taste better and avoids as little contamination as possible.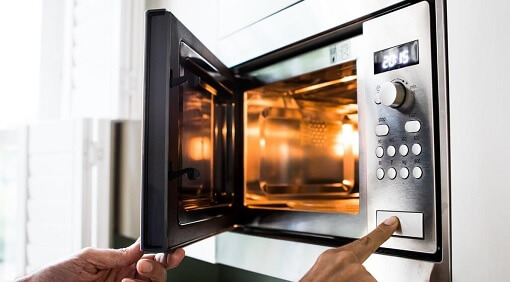 Conclusion
The microwave scrambled eggs no milk is a quick, convenient breakfast, even if you have problems consuming dairy. By replacing milk with water in a 1:1 ratio with the egg, you can solve this problem easily.
Not only does it save time, but it also saves on heat consumption and increases temperature control compared to stoves and ovens. If you have a busy morning, don't skip meals, but think of the above recipe and method!